24options no longer offer binary options trading.  If you want to trade with binary options I recommend that you try IQ option instead.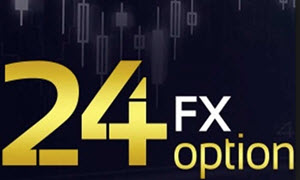 24 options is a very good broker and can be a very good choice. It is an excellent choice if you have a large bankroll and can deposit enough money to get their gold or platinum accounts. These accounts give you a higher return and make it easier to earn money. The platinum account give you a very good 95% return on regular binary options.
24 option is a good choice if you want to trade with binary options based on stock. They offer a good selection of different stock based options with good returns. They do however also offer options based on other types of underlying financial instruments. It is easy to trade on computers as well as on  mobile units.
24 options was funded in 2010 and is owned by Mika Holdings Inc. They are operating using a license from Cyprus Securities Exchange Commission (CySEC).
Bonus
24 option offer a large selection of different bonuses. They have no regular bonus. Instead they choose to mix it up and offer different campaigns with different bonuses. They always offer some kind of bonus. The shape and size will however differ over time. The bonus might be both cash and risk free trades. Trades where you get your money back if the option matures outside the money.
I am not going to give you any example of the bonuses they offer since the bonus they offer right now might be nothing like the one they offer when you read this.
If you do not like the bonus they offer you can contact an account manager and see if you can negotiate a better one. This is almost always possible if you want to deposit a larger amount of money.
Software for online trading
24 Option uses a browser based software that can be used on all computers regardless of platform. It does not matter if you use a Mac or a PC with Windows, Linux, Ubuntu or any other operating system. The trading platform will work just as good regardless. You might have to updated to the latest version of your browser of choice to be able to trade.
The software is very well designed and we have not been able to find any bugs in it. It is easy to navigate and makes it very easy to find the binary option you want. You will quickly learn to use it even if you never traded online before. They provide good guides that will help you speed up your learning curve.
Software for mobile trading
24 Option offer a very well developed mobile trading platform. The mobile trading platform is available for both Android units and for iPhones (iPad). You need to download the app to be able to use the full power of their mobile trading platform. Some portable units will also allow you to use the regular based platform to trade if you do not want to download an app.
The app is easy to navigate and trade with. It is always easy to find the options you want. Some options are not available in the mobile platform. To trade with these you need to login in from your computer. The options that are not available on mobile units are mainly exotic binary options that we recommend against trading anyway.
The app is very stable on both Android and iPhone.
Types of binary options
The broker gives you access to a large selection to different types of binary options. They always stay on the forefront of the development of new types of options. Examples of the different types of binary options that you can trade with include regular binary options, super short binary options, one touch options and interval options.
We recommend that you avoid trading with other types of binary options than regular options and maybe super short options. The super short option give you a 67% return ( 71% if you have a platinum account). Regular options give you a 91% return (95% if you have a platinum account).
Accounts
24 options offer regular, gold and platinum accounts. Which type of account you get depends on how much money you deposit with your first deposit as well as your continued trading habits. It is possible to get a platinum account when you make your first deposit. The gold and platinum accounts come with a number of different perks. The most important of these is that you get higher return on your options when you have one of these accounts. How much extra you get depends on what type of account you have.
They also offer a demo account that can be used to try out new strategies and to learn how their software works. The demo account is an important tool even after you have started trading using real money.
Financial instruments
The majority of the binary options that you can trade with are based on stocks. You can find options based on American as well as foreign companies.
You can also trade with options based on a selection of currency pairs, commodities and indices. This selection is limited to the most popular instruments in each of these areas. Example of commodities include gold,silver; example of indices include Dow Jones and examples of currency pairs includes USD based pairs.
Support and banking
24 option offer a knowledgeable English speaking customer service that can be reached by email, phone and live chat. The live chat is usually the best option if you want to get a quick answer. The phone support is also a good option but the risk of having to wait in line is larger than it is using the chat.
They minimum allowed deposit is USD250 and you are allowed one free withdrawal each month. If you want to withdraw money more often you will have to pay a processing fee.
The selection of methods you can use to deposit and withdraw money is large. You can use a number of e-wallets, credit cards and direct transfers. Some methods are exclusively for depositing money while others can be used to withdraw money as well.