Binary.com has been on the market since 1998. They where among the pioneers in the space. They where originally known as BetOnMarkets.com. They have a good reputation due to their easy no frills software. They focus exclusively on a good trading experience. They are good choice for experienced and beginner traders alike.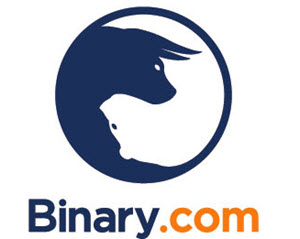 Binary.com is owned by Binary LTD. They are based on Malta and use a brokerage license from Malta Financial Services Authority and a gambling license from MGA on Malta. They need both a brokerage and a gambling license because they offer options based on virtual financial instruments. A type of gambling.
They offer a very large selection of informative material that can help beginners become skilled players. They offer free e-books, webinars and guides.
The software is developed by binary.com. The browser based software is well designed, easy to use and works on all computers regardless of operating system.
Bonus
Binary.com does not offer any regular official bonus and they do usually not feature any bonus information on their website. This does however not mean that they never offer any bonus. Try contacting the customer service before you register and ask if they can offer you a bonus. This is often possible, especially if you want to deposit a large amount of money. If they are unable to give you a bonus they might still be able give you some extra perks. Provide the customer service about your plans and how much money you want to deposit to maximize your chance of getting a bonus.
Software for online trading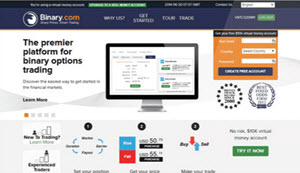 Binary.com use a software that they have developed themselves. The software is very scaled back and minimalistic. It does not offer anything that is not necessary. This is a good thing. It makes the software very fast loading and very easy to use. There are no distraction from the trading. The software does not provide real time news feeds and does not provide support for automatic signal trading.
They are developing a new platform and we do not know what this platform will offer. The platform they offer when you read this might be very different from the platform I write about above.
The trading platform is browser based and works equally well on all computer platforms. You can trade regardless of your operating system.
Software for mobile trading
Binary.com offer mobile trading for Android and iOS (iPhone). The apps are well developed and make it very easy to trade with binary options. The app for Android can be download from the Play store and the iOS app is available in the APPLE store.
Types of binary options
Binary.com offer a large selection of different types of binary options. They offer regular binary options as well as short options and a large selection of different types of exotic options. They provide binary options with a maturity of between 10 seconds and 1 year. Some option offer a 100% return but most options have a lower return rate. The smallest amount you can invest in a option is USD 1.
Among their exotic options you find Touch/No touch options and interval options. They offer several different types of these options. Their exotic options are mainly based on currency pairs, indices and commodities. The selection of stock based exotic options is a lot smaller.
Binary.com allow you to close all positions early if you want to.
Accounts
Binary.com offer two different type of accounts. Demo accounts and regular accounts. All new members get a demo account with 10k in virtual money on it. The demo account does not work in exactly the same way as the regular account but still gives you a good chance to learn how to trade using their platform.
Your demo account is transformed into a regular account when you make your first deposit.
Financial instruments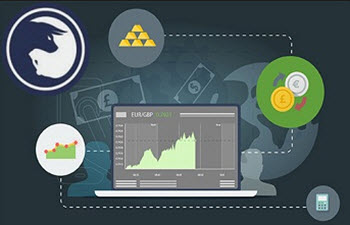 Binary.com offer binary options based on financial instruments as well as virtual instruments. The virtual instruments have no ties to the real world and is more or less a lottery. I do not recommend that you ever trade in these binary options. It is not possible to consistently earn money trading virtual options. The virtual options are found in a section called random.
Among the options that are based on real financial instruments you find options based on shares, currency pairs, indices and commodities. They offer a very large selection of options based on currency pairs.
The selection of options based on shares is not very large but you still find options based on companies from all over the world. They also offer options based on most popular indices.
The selection of options based on commodities is very small.
Support and banking
They offer a good customer support. The customer support can be contact through telephone, email and live chat. They usually respond very quickly. I have found that the best way to get a reply is to send an email to support@binary.com. You usually get a faster response through phone or live chat but the replies you get via email are more detailed and informative.
Binary.com has a very low minimum deposit. You can choose to deposit as little as USD 5 into your account. The minimum deposit using some banking options is USD 10.
It is easy to deposit and withdraw money. Withdrawals are usually processed quickly and it is common that you have your money in your bank account the day after you requested the withdrawal. It can take up to 5 days to get your money. How fast you get your money is largely depending on your bank or e-wallet, not binary.com. You can withdraw up to USD 10 000 each time. If you want to withdraw more you need to contact an account manager.
They offer a very large selection of banking options. They offer close to 100 different alterantives. Among the most popular methods you find MasterCard, VISA, Wire Transfer, Skrill and Neteller.