This broker is one of the very best brokers for traders who are looking to make money through disciplined binary option trading. They offer a small amount of options. The options offer very good returns which makes it a lot easier to make money trading with this broker than it is trading with most other brokers. Experienced traders with a large bankroll can  choose to trade using a VIP account at a number of different brokers to get a similar return on investment and a lot larger selection of binary options. Beginners will find it hard to find a better option.

IG Index is a CFDs (contract for difference) broker that offer binary options on the side. You can choose to trade both types of instrument on the site. We do however recommend against doing this since we think focus is a key to success when trading with binary options.
The broker was founded in 1974 and is listed on the FTSE 250. An index containing the 250 largest UK companies listed on the London Stock exchange. The companies large size makes it very reliable and you know that they will always pay you your money when you ask them to.
IG Index is licensed by both the Financial Conduct Authority (FCA) and the UK Gambling Commission
Bonus
IG Indexes does not offer any bonuses of any kind.
Software for online trading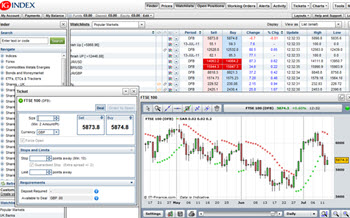 IG index makes it very easy to trade online. They have a well developed browser based trading platform. It is very easy to find the section for binary options and it is very easy to trade. The prices are updated every second. This is a good feature that can be a little confusing when you first start to use the platform. It is easy to get confused when the exact values used to base the binary option on is slightly different than those you saw when you made your purchase. This is due to the fact that a few seconds might have passed which will affected the value. The differences are small and have no real impact on your trades unless you trade with super short options.
The platform works on all computers systems. Since it is browser based it doesn't matter if you use a PC, an Ubuntu system or a mac. The software will work just as good regardless.
Software for mobile trading
The broker offers trading apps for both Android and iOS systems. Android systems include most Samsung phones and iOS is found on the iPhone and iPad. The apps are easy to install and very well designed. Our testing show them to be very stable. They never freezes or shuts down.
It is very easy to use the app for trading. It easy to find the option you look for and it is easy to finalize the purchase.
The selection of options and CFD:s is a little smaller on the mobile than it is online.
Types of binary options
This broker offer a small selection of binary options and primarily focus on regular binary options. The regular options pays 96% return. They also offer short binary options as well as low number of other binary options. The options have maturities ranging from 2 minutes to a month.
Account Types
IG Index offer a number of different accounts depending on how much money you deposit and how much you trade. They offer a number of very beneficial VIP accounts. You will not get promoted to a better account type automatically. If you think you deserve a better account you will need to contact you account manager and ask to get your account upgraded. The account manager will either upgrade you or tell what you have to do to qualify for a better account.
They also offer all traders a free demo account that can be used to learn how to trade or try out new strategies.
Financial instruments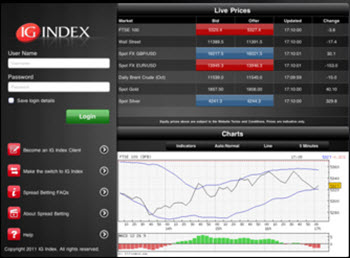 The bulk of the binary options provided by IG Index are based on indices. They also offer a low number of option based on popular commodities such as gold and silver as well as some of the biggest currency pairs. They do not offer any option based on stock.
The selection of options based on indices feature around 20 different indices. Among them you find large well known indices as well as indices in developing markets.
IG index offer binary options that are based on other things than financial instruments. Example of such binary options are options based on political elections and US Non-farm payroll report. We recommend that you never trade with these. If you want to speculate on the outcome of these events then you will usually be able to get a better return through a sports book.
Support and banking
IG index offer great support. The support is alwaya open and that can be reach by phone and email. The best way to get help is to call 0800 4096789.
They make it very easy to deposit money by offering a lot of different options to do so. Some but not all of these options can be used to withdraw money. Choose the method you want to use based on your preferences. Keep in mind that some methods are associated with a fee while others are free.