Plus500 has a huge assortment of Contracts for Difference (CFDs). Through them, you can gain exposure to shares, options, foreign currency, cryptocurrency, Exchange Traded Funds, commodities, and more.
The platform is always open, but which CFDs you can trade with will vary. A CFD based on a share listed at LSE will be available for trade during LSE trading hours, while a CFD based on a share listed at NYSE will follow NYSE trading hours, and so on.
The Plus500 site is available in 30+ different languages.
The trading platform
The trading platform used by Plus500 is called Webtrader. This is a bespoke platform, created specifically for Plus500. Therefore, it is ideal for the services offered by Plus500.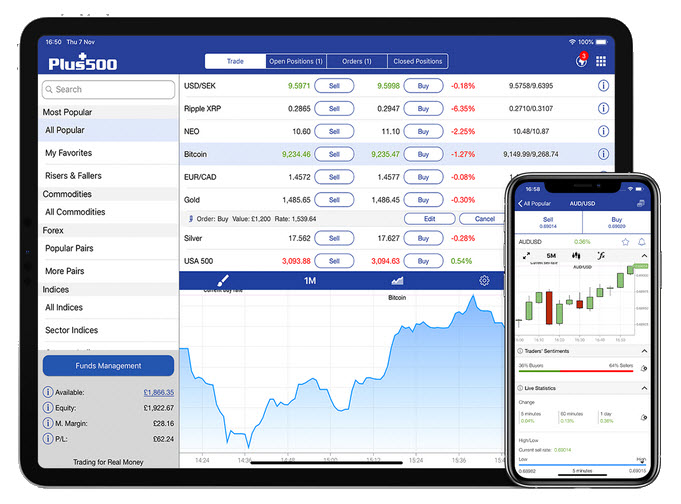 Can I download the platform?
Yes, you can download Webtrader and install it on your computer.
Do I have to download the platform?
No, you can use Webtrader directly in your web browser window. Downloading it is not required.
Can I use Webtrader on a mobile device?
Yes, Webtrader works on smartphones and surf pads. The plus500 app for Android is available for free download from Google Play. The app for iOS is available for free download from the Apple App Store.
Standard Account vs. Demo Account
The Standard Account is for real-money trading. The Demo Account is for play-money trading. If you open a Demo Account (it´s free!) you get a buch of play-money that you can use to explore the Webtrader platform, try out different strategies, and so on. It is the perfect method for learning to use Webtrader without risking a penny.
Cryptocurrency
Plus500 have CFDs based on cryptocurrencies such as Bitcoin, Litecoin and Ripple.
Leveraged trades
Plus500 offers leveraged trades. The largest leverage is 1:300. In some jurisdictions, the leverage offered is considerably smaller, due to local legal restrictions.
Customer support
Phone support: No
Email support: Yes
Live chat support: Yes
Opening hours: 24/7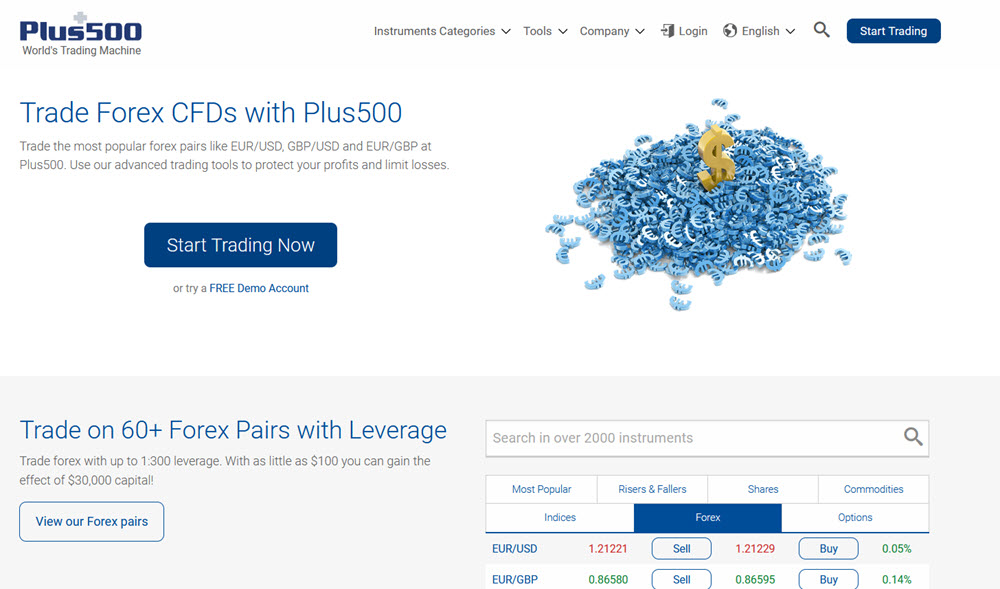 Deposits & Withdrawals
Examples of accepted transaction methods
VISA
MasterCard
Bank transfer
PayPal
Skrill
Size limits
The smallest possible deposit is 100 USD.
The size of the smallest possible withdrawal depends on your selected transaction method.
Withdrawal fee
Plus500 does not charge a withdrawal fee.
Withdrawal time
Plus500 will usually need at least three bank days to process a withdrawal request.
About Plus500
Plus500 Ltd is a brittish company. The shares are listed at the LSE Main Market. Plus500 Ltd is the parent company of various Plus500 subsidiares that hold local licenses around the world.
Within the European Union, Plus500 works through the subsidiary Plus500CY Ltd. This is a Cypriotic company licensed by the Cyprus Securities and Exchange Commission (License No. 250/14). Since Cyprus is a European Union member, this subsidiary must adhere to both cypriotic law and EU rules.
Plus500UK Ltd is brittish-based and licensed by the UK Financial Conduct Authority (FRN 509909).
Plus500AU Pty Ltd is based in Australia. It is authorised by the Australian Securities and Investments Commission, and also holds a Derivatives Issuer License from New Zeeland and a Financial Service Provider license from South Africa.